Can you believe we already one week into 2013??? I know I said it before, but I am so excited about this year. Even in the last 7 days so many things have been happening in my life that I just know that 2013 is going to bring so many exciting changes for me. It's hard to say more than that right now, but i know this will mean big things for me creatively.
To start the year of right,
Lizette
and I have put together another swap! The first of 2013!!!!! Hooray!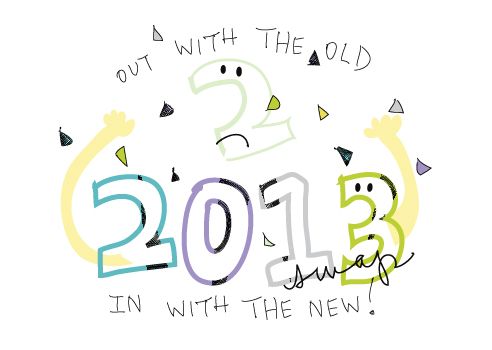 Out With The Old And In With The New Swap!
Each person will be matched up with one partner.
You will share one of your New Years Resolutions with your partner to use as inspiration for the item(s) they are going to make for you and should share a resolution with you as well for the item you will make for them. If you have more than one goal for 2013, you can feel free to give them some choices.
The actual items made can be anything: decorative wall plaque with the goal in mind (eat more veggies!) to hang in your pantry, a fun headband to celebrate your goal to grow your hair out, a coin purse as a reminder to save money, whatever!! Just be sure to communicate with your partner to see if they have any likes or dislikes about the type of item.
HERE'S THE CATCH:
To really make this a fun "out with the old" New Years Resolution swap, the item you make for your partner should incorporate at least TWO unwanted craft supplies from your personal materials. We all have those scraps from projects past that we're just not sure what to do with but we also don't want to throw away because they are still perfectly good and intact supplies. This is your chance!
The Timeline
Sign up by Jan 14th by e-mailing me at themorosebee(at)gmail(dot)com
You will be notified of your parter by Jan 16th
you should contact your partner by Jan 18th
Mail out your swap item by Feb 1st
As always,
We love to hear your stories! When signing up for the swap, let us know what the supplies were that you found new life for in your craft or, even better, send us photos of your process and finished item.
I am so beyond excited about these swaps and I love how many more people are joining in on them! Don't forget to check out my swap partners blog here and the Facebook group for our swaps here.