First of all....
HAPPY NEW YEAR
I'm feeling really good about 2013. I'm not sure what it is, but I think my move back to Florida has me feeling optimistic.
I thought about putting together a few New Years Resolutions this year, but then I remembered that right after my birthday I put together my 23 before 24 List. Rather than reinvent the wheel, I took a look at what I had set out to accomplish a few months ago and see how much progress I've made in the last 2 months.
The numbers skip around a bit because I'm only looking at the ones that I've actually made progress on, but I hope to tackle the rest of the list sooner than later.
4.
Learn basic sewing skills:
One down!!! With "basic" being the keyword. I feel pretty confident at my ability to tackle most beginner sewing projects and even bought a dress pattern classified as "intermediate." Watch out now! It's gettin' real.
5.
Sew my Halloween 2013 costumes completely from scratch:
I've decided what I want to be and I'm going to make a few sample pieces before I dive into trying to get this together. I would love to have it made way in advance so it's done and I don't have to stress about it.
6.
Participate in 4 craft shows
: REALLY excited about this one! I'm going to be a vendor in the 2013 Retro Indie Market in Delray Beach, Fl!!! I am also going to have a booth at the Downtown Open Markets in Boca Raton, Fl in May. Then I have another 2 picked out that I want to have a booth at, but it's too early to apply. Keeping my fingers crossed. I'm also kinda hoping to make it to the Brooklyn Renegade this year, but I'm not holding my breath on that one.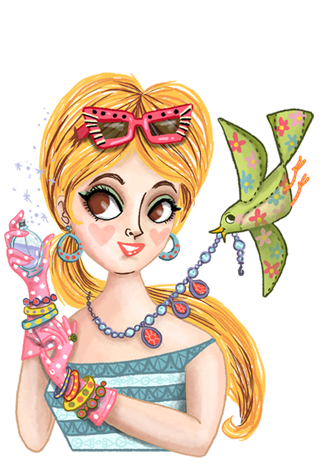 9.
Streamline The Morose Bee product line
: I'll be posting more about this soon!!! I'm also trying to figure out how I can add new items to the shop (aka non ceramic things). I don't want to be one of those people with the weird Etsy shops that have jumbled together items with no cohesion, but I do want to expand.
11.
Get in the habit of drawing something every day
: I haven't really been doing to well with this one as I've been using most of my creative energy to get my Christmas gifts finished, but hopefully once the holiday craziness settles I can start this.
13.
Launch my second blog
: The blog is actually sent up, but it has very specific content so it needs a few more weeks of work. It's almost ready though!
16.
Streamline my wardrobe
: Boom! #2! It feels so good to cross things off. I took my biggest haul of clothing of my entire life to the consignment store and then the rest to Goodwill a few weeks ago. I think I now have the least amount of clothes I have ever had and it feels pretty good. Maybe this seems silly to some people, but I am a closeted hoarder so it's a huge accomplishment for me!
20.
Finish cooking every recipe in Appetite for Reduction
: So, this one I haven't finished, but I think I'm done either way. After making a few of the last recipes I haven't tried yet, what I realized is part of the reason I haven't made them yet is because the ingredients just aren't my favorite. They were yummy, but it's less fun to cook when you retrain yourself to specific recipes.
22.
Get 9 hours of sleep a night
:
23.
Have on day off per week
:
These two have actually been working out quite nicely for me although my hours being cut at work have a lot to do with it, but hey I'm not complaining!